Operating Instructions
Choose Settings in the bottom menu.
Tap the Device icon.
Scroll down to the ListenThrough and/or EasyListen section.
Choose ON, OFF, or Last State from the drop-down menu.
Product Specifications
There are many audio transmitters on the market, but HearLink PLUS has some unique features that set it apart as the transmitter of choice for assistive hearing.
It supports ListenThrough™ technology to allow important ambient sounds (like a conversation with a TV viewing partner, or the doorbell) to pass through on top of the streamed audio.
During incoming phone calls the audio stream will be stopped and then automatically resumed when the call is completed.
It supports up to two BeHear® headsets simultaneously.
Technical
Try the following: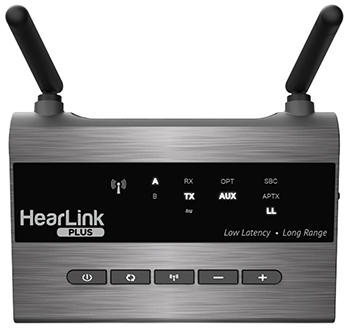 Check the HearLink PLUS panel and make sure the OPT or AUX indicator is lit. If neither is lit, make sure the power and output cables are connected securely.
Verify that the HearLink PLUS transmitter is in TX mode and that the TX indicator is lit.
Either the A or B indicator on the HearLink PLUS panel should be lit. If it's not, it's a sign that the headset is not connected. Press the ON/OFF button once (short press) and check again. If one of the A/B indicators lights up, then the transmitter has connected to the headset successfully. You should now hear sound in the headset.
If you still don't hear sound, turn up the volume on the TV itself (or by using the BeHear headset's left-hand side volume control).
If the TV sound is unclear or distorted, try turning ListenThrough mode OFF, or reducing the transparency of ambient sounds via the ListenThrough microphones using the headset's right-hand volume button.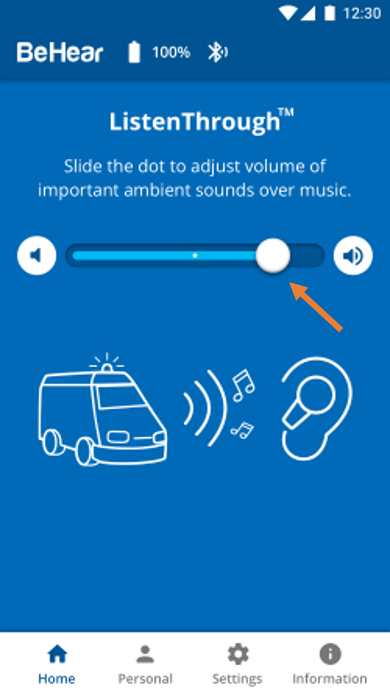 This sometimes happens when ListenThrough is activated on a high transparency setting (the dot on the scale is set far on the right). In this instance, slide the dot to the left until the strange sound disappears.

Alternatively, turn off ListenThrough completely by sliding the dot all the way to the left (or tapping the mute button to the left of the scale), or by pressing the middle button on the headset's right-hand control box.

You can also change the default settings for ListenThrough so that it will not be activated until you choose to do so. To change the default settings:
Tap the "Settings" icon at the bottom of the W&H BeHear app screen.
Tap the "Device" icon.
Scroll down to the "ListenThrough Music" section, and tap the ▼ symbol below the descriptive text to reveal the drop-down list of options.
Choose "OFF".