How to Hear Better While Watching Television
Do you sometimes have trouble following dialogue in television programs?
Do others complain that you have the TV on too loud?
Does it seem that the background music on some TV shows drowns out speech?
If You've Answered Yes to Any of the Above…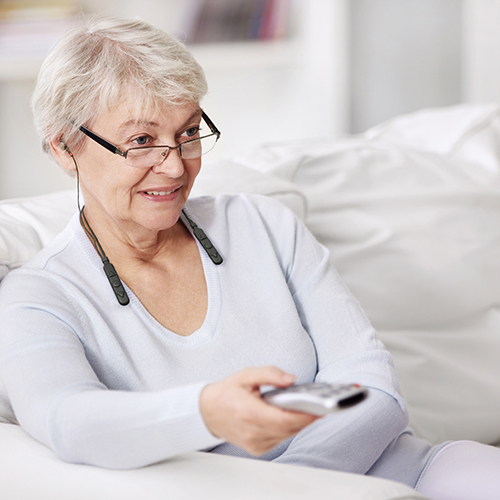 A BeHear headset and HearLink PLUS transmitter are the perfect solution: a truly personal and affordable sound system.
After you perform a quick hearing assessment on our smartphone app, your BeHear headset will be personalized to amplify and clarify only what you want and need to hear. When you pair the headset with the HearLink PLUS transmitter you will enjoy unblemished sound, broadcast directly from your television to your ears.
Best All-Around TV Watching Experience
This unique combination of the BeHear personal amplifier and our long-range, low-latency Bluetooth transmitter ensures you'll hear each syllable without cranking up the volume on your TV. Transmitting range of the HearLink PLUS is ~200 feet so you can enjoy crisp and clear TV audio, even if you leave the room! Top notch technology guarantees perfect audio-video synchronization, with no lip-sync issues.
Unique Technology Keeps You Alert to Your Surroundings
All Wear & Hear headsets include our unique ListenThrough™ technology, which keeps you aware of your environment while you are listening to audio content. It suppresses ambient noise while allowing important sounds, such as the doorbell or your partner's voice, to pass through to your ears — even as you watch television.
Switch Easily between TV Audio and Phone Calls
Pair your BeHear headset to the HearLink PLUS Bluetooth audio transmitter, and to your smartphone. If you happen to receive a phone call while watching television, you can answer the call and mute the TV's audio stream with the click of a single button on the headset! The TV audio will automatically un-mute when the call ends.
When paired with the HearLink PLUS transmitter, BeHear headsets provide an excellent TV watching experience.
Share this:
Want More Information?
Join our mailing list to get updates about BeHear pricing and availability.
//php get_template_part( 'template-parts/footer-cols', 'none' );?>