General - Pre-Sales Questions
You can use the BeHear and control its basic functions even if you don't have a smartphone. However, if you want to make sure the BeHear amplification matches your hearing profile, we highly recommend that you take our hearing assessment using a smartphone and our app. The hearing assessment results will be saved in the BeHear headset, so you can use it later without a smartphone. The smartphone is also instrumental in fine-tuning the hearing environment in real time. However, the headset itself includes seven built-in control buttons that allow you to use it autonomously. So, if you want to use the device for ambient hearing only (not mobile phone calls or audio streaming from a phone), you do not need a smartphone.
Technical
Try the following: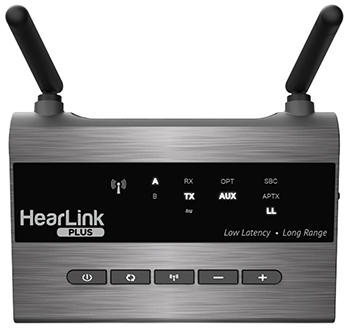 Check the HearLink PLUS panel and make sure the OPT or AUX indicator is lit. If neither is lit, make sure the power and output cables are connected securely.
Verify that the HearLink PLUS transmitter is in TX mode and that the TX indicator is lit.
Either the A or B indicator on the HearLink PLUS panel should be lit. If it's not, it's a sign that the headset is not connected. Press the ON/OFF button once (short press) and check again. If one of the A/B indicators lights up, then the transmitter has connected to the headset successfully. You should now hear sound in the headset.
If you still don't hear sound, turn up the volume on the TV itself (or by using the BeHear headset's left-hand side volume control).
If the TV sound is unclear or distorted, try turning ListenThrough mode OFF, or reducing the transparency of ambient sounds via the ListenThrough microphones using the headset's right-hand volume button.