Better Hearing is Now Within Reach – Part 3
March 15, 2019
This is the final installment of a 3-part series. If you haven't yet read the earlier installments, you can read the first part here and the second part here.
How is this Concept Different from the Conventional Solutions?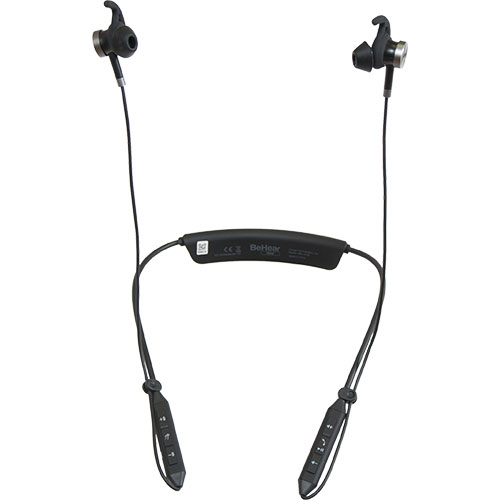 Our first personal hearing product, released commercially in the Fall of 2018, is called BeHear® NOW. It is a stylish, comfortable, high-quality Bluetooth stereo neckband style headset that can be used to listen to music or make phone calls. In addition, it can be used to enhance ambient hearing, very similar to or better than hearing aids. Its retail price of $249 ( €249) makes it very attractive to a wide population.
What About Sound Quality?
BeHear NOW has four microphones, two in the earpieces and two in the control boxes. Using four microphones enables unprecedented sound quality for both ambient hearing and voice communication. The headset features two 13mm hi-fi speakers delivering uncompromised sound. It includes a large rechargeable battery allowing the wearer to use its ambient hearing amplification during an entire day without recharging.
The Difference is in the Sound Enhancing Software
BeHear NOW can be used as a standalone hearing amplifier, but its true value comes with its software. It pairs with a dedicated, free smartphone application called W&H BeHear for iPhones and Android that enables full control and self-adjustment of the headset. When the personal hearing mode is activated, the wearer can choose the most suitable preset (Indoors, Outdoors, Crowd or Live Music). S/He can change noise reduction settings from low to maximum depending on the environment.
Fine Tune the Device on Your Own
One of the problems with hearing aids today is that they require professional fitting in an audiologist's office. Given the large number of people who suffer from hearing loss worldwide, it should be apparent that there are not enough audiologists on earth to provide hearing aids to everyone who needs one, especially in rural, distant areas. With BeHear NOW that is not an issue. Wearers can modify the spectrum of the sound they hear in real time by moving their finger on a grid to locate what we call the Best Sound Point. The Best Sound Point is a highly personal definition, depending on the wearer's preferences, capabilities, and current location!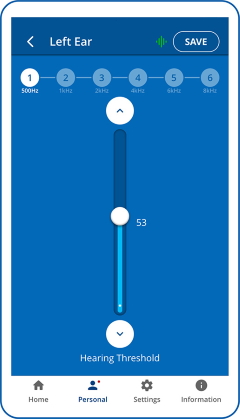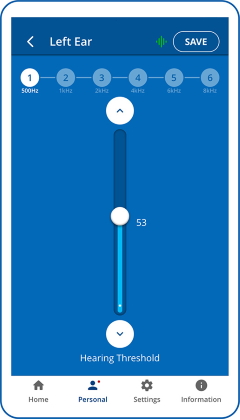 Furthermore, the W&H BeHear application contains a simple hearing assessment that anyone can perform and get immediate results. This is not a medical procedure, of course, but when completed, all BeHear NOW sounds will be modified to fit the wearer's own personal hearing profile.
Advantages That People With Normal Hearing Will Also Appreciate
BeHear NOW also includes some advanced features that may be useful for people with normal hearing as well. For example, many people have trouble with fast speech. We all prefer that the other person speak slower when we need to write down a phone number, understand a foreign language, or are otherwise being distracted. BeHear NOW can do it automatically. When BeHear NOW is used to make or take a phone call, the wearer can activate a special mode called EasyListen™ to slow down speech and improve understanding. While listening to music, the wearer can activate ListenThrough™ technology. Nearby human voices, the noise of an approaching car and other important or alarming sounds will pass through while ambient noise will be blocked, allowing him/her to enjoy the music to the fullest.
Great Potential for Improving Quality of Life
The Wear & Hear line of assistive hearing products is highly innovative, leveraging two successful concepts (consumer electronics and sound technology advancements). The resulting solutions have the potential to improve quality of life for millions of people worldwide. As Helen Keller once famously remarked, when asked which sense was more important, vision or hearing: "Blindness cuts us off from things, but deafness cuts us off from people." We want the world to sound better to all. With the aid of our personal hearing devices, people can reconnect socially, without the stigma or high cost of a medical hearing aid.
What's Next? Feedback and Market Education
The first members of our Wear & Hear family of personal hearing devices are ready for purchase, here on our Web site, and through our international partner channel. However, the market needs educating. There are about 400 million people with disabling hearing loss who desperately need a solution, but they have no idea that there is a high-quality alternative to hearing aids. Our concept of affordable, stylish, multi-functional hearing enhancement solutions needs to capture the attention of both the hearing impaired and those who can help us bring them to market. Can you help?