Wear & Hear Featured in Hearing Technology Showcase
February 14, 2020
"These are not your grandpa's hearing aids."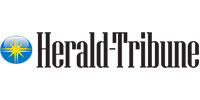 ♦ Vicki Dean, writing for the Herald-Tribune, recently interviewed spokespersons for companies showcasing their solutions at the Hearing Tech Expo, held February 15 at the Manatee Technical Institute in Bradenton, Florida.
In its eighth year, this event is sponsored annually by the HLAA Sarasota chapter. Hundreds attended to take advantage of free hearing clinics and workshops, to meet with various support groups, and to try out the latest in hearing health technology.
As first-time exhibitors at this event, we at Wear & Hear were honored to be interviewed by Ms. Dean, and mentioned in the subsequent article in the Herald-Tribune. Our products caught her eye when we launched the BeHear ACCESS, a personalizable hearing headset, at the CES 2020 event earlier in the year.
Of the new technologies showcased at the event, Ms. Dean wrote:
These are not your grandpa's hearing aids…New devices function like Bluetooth headsets to amplify relevant sounds while filtering out background noise.
To get our stories sent directly to your inbox, register here.