All

W&H BeHear "How to" videos

support captions.
To see closed captions from the W&H BeHear app
Click the three vertical dots in the upper right-hand corner of the screen.
Tap "Captions".
Tap the desired language:
To see closed captions on your laptop/desktop computer
Click the Settings icon in the lower right section of the video frame.
Click "Subtitles/CC" to see the available languages.
Select the language of your choice.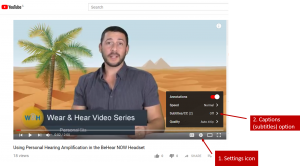 Return to the "Videos" page.