Can I use the BeHear to listen to the TV without the HearLink PLUS?
You can use the BeHear headset to listen to the TV even without the HearLink PLUS transmitter, but HearLink PLUS will provide better sound quality, as the audio will be streamed directly to the headset.
HearLink PLUS isn't working right when two headsets are paired with it.
Check these possible causes :
One of the headsets is out of range. The quality of the Bluetooth connection (and associated audio distortions) depends on the weakest connection of the two connected headsets. For example, audio distortions may be heard by the wearer of the headset closest to the HearLink/HearLink PLUS transmitter when the second headset is out of the transmitter's range.
One of the headsets is not a BeHear headset. The active CODEC (SBC, aptX or aptX-LL) for the HearLink PLUS transmitter is determined according to the common denominator for the both headsets. Two BeHear headsets will always operate in aptX-LL mode. However, if one of the connected headsets is not a BeHear headset, and it doesn't support aptX, both headsets will work in the lower quality SBC mode only.
Each headset is paired to a different mobile phone. It is not recommended to connect two headsets simultaneously to one HearLink PLUS and maintain separate smartphone connections for each headset. This is due to problems which may arise when the wearer desires to switch the audio stream between his/her phone and HearLink PLUS (e.g., for an incoming call from one of the phones).
How can I stop the strange sounds that are sometimes emitted from the headset when streaming audio (TV, music player, computer)?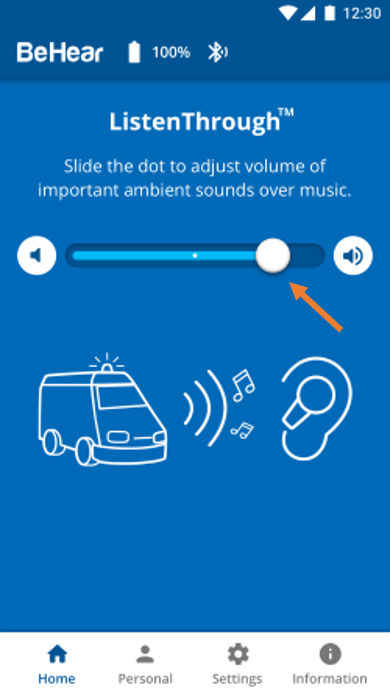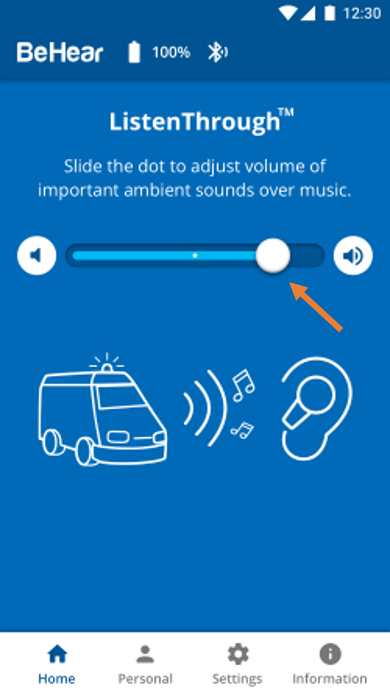 This sometimes happens when ListenThrough is activated on a high transparency setting (the dot on the scale is set far on the right). In this instance, slide the dot to the left until the strange sound disappears.
Alternatively, turn off ListenThrough completely by sliding the dot all the way to the left (or tapping the mute button to the left of the scale), or by pressing the middle button on the headset's right-hand control box.
You can also change the default settings for ListenThrough so that it will not be activated until you choose to do so. To change the default settings:
Tap the "Settings" icon at the bottom of the W&H BeHear app screen.
Tap the "Device" icon.
Scroll down to the "ListenThrough Music" section, and tap the ▼ symbol below the descriptive text to reveal the drop-down list of options.
Choose "OFF".