Does BeHear support directionality?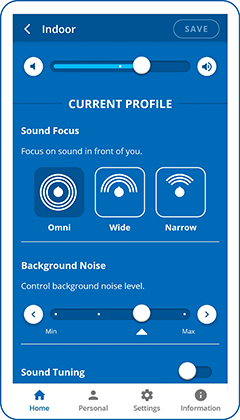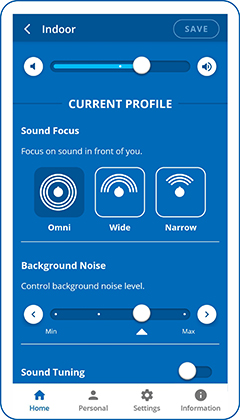 BeHear ACCESS supports three degrees of directionality, or "sound focus": Narrow, Wide, and Omni. These settings determine the direction for which to amplify important sounds, relative to the BeHear user's face.
Narrow focuses on the area directly in front of the wearer's face. It is good for one-on-one conversations in noisy areas.
Wide amplifies important sounds in a 180 degree half-circle in front of the wearer. It is good for multi-person conversations in noisy areas.
Omni collects important sounds from all directions. It is good for time spent outdoors, or when listening to live music.
To set the desired degree of sound focus, use the W&H BeHear app (which has been paired with your BeHear ACCESS headset), as follows:
When in Personal Hearing mode (i.e., no audio is streaming and there is no active phone call), from the Home menu tap the "equalizer" button at the bottom of the screen.
In the "Current Profile" section, tap the relevant icon.
To save this setting for future use with the current profile (Indoor, Outdoor, Crowd, or Live Music), tap the Save button. Otherwise, the headset will use the system default.