Stylish, Over-the-Counter (OTC) Hearing Devices
March 09, 2020
"These headphones have good ergonomics."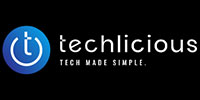 ♦ Stewart Wolpin, a writer for Techlicious "Tech Made Simple", recently included the BeHear ACCESS in his lineup of four new "Over the Counter" (also known as OTC) hearing devices.
As per the article, "Alango's Wear & Hear BeHear ACCESS operate as regular behind-the-neck Bluetooth headphones, letting you listen to music, take calls, and adjust the volume of ambient sound. They also have a couple of OTC hearing aid extras.
If you have trouble following fast talkers or people with accents on phone calls, an EasyListen mode elongates consonants to remarkably improve comprehension. – Stewart Wolpin, Techlicious
"The BeHear Access are T-coil compliant, which means you'll receive broadcasts directly to the headphones in loop-enabled public venues like theaters and churches. (You can tell by the 'T' designation on your program.)"
"And the headphones have good ergonomics: The headphone controls are extra-large, uniquely-shaped buttons you can control by feel, and there is a drop-in magnetic charger, so you don't have to fiddle with tiny jacks and plugs."
To get our stories sent directly to your inbox, register here.