Schoolteacher Finds Silver Lining in Pandemic
August 03, 2020
Brenda Guy, a middle school teacher in the Midwest, lately shared her experiences with Wear & Hear products in a video:
Here's Brenda's story:
If there's any kind of a silver lining to the current pandemic we find ourselves in across the world, it's me finding the Alango BeHear ACCESS and BeHear NOW. I'm a schoolteacher and I started noticed issues with having to ask my kids to repeat themselves. I would think "they are just mumbling".
You really don't realize what you're missing.
There were some other things I realized I was missing, but it's hard to know what you're missing! You really don't realize what you're missing. One day, actually over a year ago, I was in another teacher's classroom and people were talking about this annoying noise, and I kept standing there thinking, "I can't hear it". And so finally I actually asked "what do you mean, what noise are you hearing?" Apparently it was a high-pitched noise that was just out of my hearing range, and I had not realized there were so many things that I was not hearing.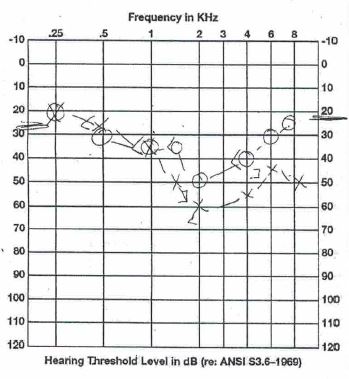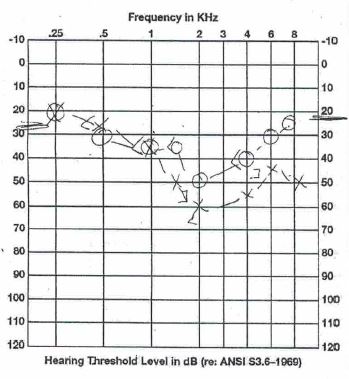 I did find myself asking other people "what" more often, to repeat themselves, Sometimes it would just take me a second to figure out what somebody had said. It would take me a second to process it. I would hear it, but I was missing some of those quieter sounds in the language, and so it would take me a second for my brain to kind of put together the missing pieces to figure out the whole message. So I finally, in a visit to my doctor, we talked about it. She sent me for audiology. I went in over my winter break from school, and actually found that my right ear, was mild-to-moderate hearing loss. My left ear: moderate-to-severe. So, then they wanted to send me for an MRI, because of the imbalance of the hearing issue. They were concerned there may be a medical issue. So that was in Feb., I went for the MRI. Everything came back fine, medically.
So just about the time I was thinking I was going out to start looking for hearing aids, and thinking I'm going to spend anywhere from $5000 – $7000 for hearing aids, that's when we completely shut down everything: schools closed, businesses closed, so I was kind of at a standstill with it. So during that time I was home, after I had been home for a while, I started looking for something online. I realized there were some other hearing assistive devices out there and I started looking into some of those, and looking at reviews. And in my looking I found Bose Hearphones, and that's of course a well-known brand and it sounded wonderful and it was I think around $600, $700, so it was cheaper than hearing aids, but I did start looking at other reviews of the Hearphones, because I wanted to know what it actually did. And in doing that, I ran across a comparison of the Hearphones and the Alango BeHear.
It appeared that the Alango had more features and was less money.
It appeared that the Alango had more features and was less money. So, I did as much research as I could online, I read what was on their Web site, I looked for things outside of their Web site on the company. I found things about the founder, found things about the company that the impressed me and I signed up on the Web site to receive news from the company.
I was impressed with the personal service of it.
Within just a short time, I mean hours, I had a reply, not a robo-reply, an automatic reply to my e-mail request, but I had an e-mail from someone from the company saying they would be pleased to answer questions that I may have. I was impressed with the personal service of it.
Over the next about 2 weeks or so questions went back & forth, were answered very patiently and again, reading all kinds of things that I could find about it, and when I did decide to purchase and it was much cheaper than the Hearphones. In fact, I made the decision to buy both a BeHear NOW and a BeHear ACCESS. Part of that was because some of the reviews I'd seen online said that people had bought a second set just to make sure they had one in backup charging. It does have about a 12-13 hour charge on it, depending on what you're doing with it. Either people that already bought one were saying they wish they had, and they were planning to. So I actually got both the ACCESS and the BeHear NOW. The ACCESS has the T-coil capability, which I'm not sure I'll need very often, but it does have it. It also has larger buttons, it's a little bit easier to control, and I actually do like it a little better than the BeHear NOW. But I like both of them, they work very well.
I can hear better when I'm watching TV, I hear better in conversation, I hear better when I'm talking to people on the phone.
As far as the hearing, they both do the same. I can hear better when I'm watching TV, I hear better in conversation, I hear better when I'm talking to people on the phone. It has Bluetooth capability so I can connect it to my phone, I can connect it to my computer (which I did for virtual meetings). Since schools have been shut and communicating with kids it's made it much easier for me to hear. I like that even if I'm just listening to music on my computer, or video on my computer, I can still hear what's going on around me. I'm not completely blocked like I am with over-the-ear headphones. And while the sound is clear and it's great. I do like to know what's going on around me and not be completely closed off. I recently ended up going in for a training at school, which was socially distanced, with masks, but it's in a room in the school where I work, where I normally have a great deal of trouble hearing. The acoustics are not good in the room to begin with, and with my hearing issue it makes it even harder.
I was sitting in the back of the room and I had no trouble at all hearing what was going on or following the training.
And it was the first time I'd had a chance to have the BeHear in that room. And I have to say that I had no trouble at all. I was sitting in the back of the room and I had no trouble at all hearing what was going on or following the training. So that was very nice.
I don't say "what?" to my husband nearly as often. I can hear the alarm when it goes off on the microwave when it dings.
I can hear the timer on my stove in the kitchen which I normally before could not hear unless I was in the kitchen and it's a very loud sound, so even if I leave and go to another part of the house I can still hear it, which is kind of a safety thing — it's nice to know I can hear that timer.
Since I've been using this I don't feel like I need to look for hearing aids.
I didn't try any other solutions before this. Since I've been using this I don't feel like I need to look for hearing aids. This has taken care of my issue at this point. It may be in the future that my hearing gets to the point where I need something else but as far as now I don't. I like a lot of things about it. The phone app is easy to use.
One of the things I like about is that I'm kind of in charge of setting it and controlling it, and I can adjust it and modify according to what I need without going and making an appointment, which is really great since I wouldn't have been able to make an appointment for anywhere at this point, had I gotten something just before we all shut down.
I did the "Advanced" hearing assessment. It automatically programs the device according to the frequencies you need. It's not just an overall volume is louder; it actually does adjust for the frequencies, so you're not hearing things that you normally can hear at a much higher volume level, but it does enhance the frequencies that you are weak with…It does have a capability of me going in and actually inputting the values from my audiology report. I haven't done that, I haven't felt the need to do it. I feel like it's good as it is. I like the fact that you can go in and kind of adjust it, if you want to, save it in the Library, and then you can compare the settings. You can actually save it; it's easy to change from one to the other. So, if you change something and go "well, it was better before", then you can go back to the one that you had before.
I kind of forget that I have it on.
I have told people about this. Most people don't even notice that I have it on when I'm in a virtual meeting. Sometimes I have, at the end, kind of raised up the controls and said "hey, these are my bionic ears, these are my magic ears" because a lot of people I work with knew that I was having a hearing issue. In fact, they actually knew to come stand on my right side when they talked to me. So it is unobtrusive, it's not that noticeable, especially since a lot of my colleagues have also been wearing some sort of earbuds in the virtual meetings just to have the sound directly from the computer, and maybe not disturb people around them, if they're working in a shared space. When I did go the training there was no one who asked about it at all. There were quite a few people there, a lot of people that knew me, people I hadn't seen in a long time. Not one person said anything about it. I kind of forget that I have it on. I thought it might bother me; the earbuds, I typically don't like to wear earbuds, they bother me. The fact that these come with adjustable buds that you can put on the ear piece of make it easy.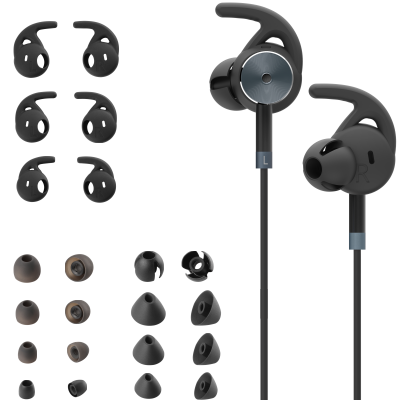 There are different size hooks, so you can put whatever type of earbuds you like and what size hook works best. So, it's very easy use, and very easy to put on. Working at a middle school, I think the kids will just think I'm wearing earbuds, when we're always telling them not to…and I also work with kids with disabilities. And I have a couple of kids that are coming in this year who have hearing issues and they will be on my case load, and I think it will help them know that I also have issues to help build a relationship with those kids.
What I like about it? I like so much about it. If someone were to need hearing aids I would really encourage them to try something like this, just because of the expense. Like I say, the customer service has been wonderful from the company. No problems that had to be taken care of. Even when I ordered this in the middle of the pandemic, I was a little bit impressed because I ordered it I think on a Wednesday or Thursday, and I had it at my house by Monday. I also ordered the HearLink PLUS, which you can use with the TV. It plugs directly in the TV and then you can then connect through Bluetooth.
I think the main thing I like about it so much is it actually does do what I need it to do. To be able to hear effectively, that power of being in control to change it, modify it, adjust it — to make it work on a personal level. To make it work, literally for you, for what you need.
Like I say, the only differences between NOW and the ACCESS: I like the ACCESS, that you can just pop it on the charger, and it charges. The BeHear NOW, you do have to plug in, not a huge deal. The On/Off button is actually in the back of the headset. It's much easier and larger to find, on the ACCESS. It's up high, in the middle. The one on the NOW is a bit smaller, and underneath. Once you know where it is, it's easy. You can, although I typically don't, you can also control phone calls. If you're connected to your phone, you can take phone calls directly from the headset. You can adjust, you have volume control, you have adjustment automatically in the headset for indoor, outdoor, live music. There are several things that it will cycle through. If you're outside sometimes you have some of that wind noise. If you're in an area where it's crowded, it kind of filters out some of that noise. I haven't been able to use all of those things yet, because we've typically been in lockdown, trying to stay well at our house.
I've been very happy with it!
I am not sure what else to say about it. I've been very happy with it and like I say, if someone were to think they need hearing aids it was also quite helpful. I asked about how, if I really were a candidate for this. I sent a copy of my audiology report and did get back from the company that it should work for me with what I showed as hearing deficiencies, and that was before I purchased the headsets. I think that's it!