Working from Home?
February 04, 2021
Hear loud and clear in your virtual meetings and mobile phone calls with BeHear headsets
Video calls are a workday staple while we shelter in place, and hearing clearly is essential to performing well in these sessions. You'll appreciate how effortless it is to communicate using a BeHear headset, which is specifically designed to help you hear your colleagues, clients, and classroom clearly.
All BeHear Bluetooth headsets pair simultaneously with your computer and smartphone. Get the full benefit of working remotely, whether via mobile calls or conference platforms such as Zoom, Skype, Microsoft Teams, Google Meet, etc., as you enjoy these great BeHear features:
Customization

: Using the integrated smartphone app you can automatically program the headset to suit your unique hearing profile.


Amplification

: Get a volume boost when you need it: about 20% greater than your mobile phone gives you!


Comprehension

: Our proprietary EasyListen technology imperceptibly slows down incoming speech to improve understanding.


Loudspeaker

: The BeHear PROXY can rest on your shoulders, or on a table to deliver clear dialogue to your unencumbered ears.


Multi-functional

: Our Bluetooth headsets can be used for live conversations as well as streamed audio.
Which BeHear is Right for You?
All are great for Zoom, Skype, Microsoft Teams, Google Meet, etc., mobile calls, and face-to-face conversations!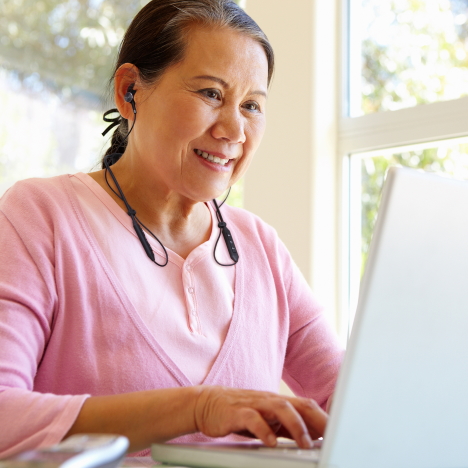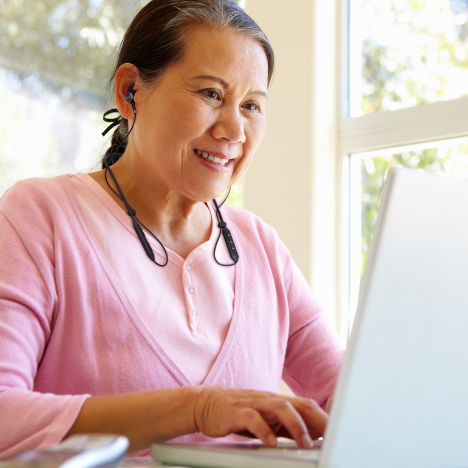 Pleased with Mobile Call Clarity in BeHear NOW
January 28, 2021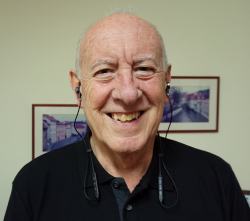 "In the family they've stopped saying 'why can't you hear?', 'why'd you ask me to say that again?"

Rodney Lever, BeHear NOW Customer
Rodney's Story
Now, it took me a while to realize that I actually needed any help with my hearing. The family really pushed me into it. And when I eventually got the hearing aids, after much discussion about the high costs, I found them OK, but then I found that batteries are expensive, so in the long term I stopped wearing them, which really was a very silly thing to do, but that's what happened. So this led me to look for another solution.
I was actually looking for hearing aids that are rechargeable.
But when I was looking I found this interesting company called Wear & Hear and after some searching with Frequently Asked Questions and listening to people who had actually used the device I decided to take a plunge and go ahead and buy the BeHear NOW. It was of course very very very much cheaper than the headphones I was looking at and so I bought it and I'm very pleased with the results so far. And of course, particularly in the family they've stopped sort of saying "why can't you hear?", "why'd you ask me to say that again?"
So, it's changed quite a lot in the house, because my wife particularly is benefiting from not having the television absolutely blasting out.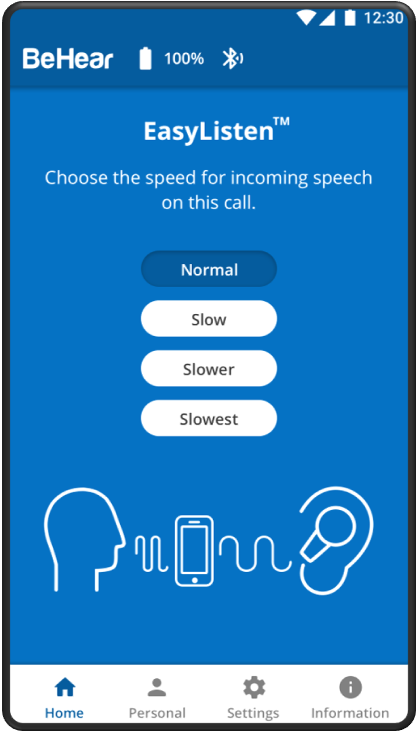 The situation I find now is that when I'm particularly listening to a conversation on a mobile phone, this is dramatic improvement for me because I was finding it very difficult to hear conversations either on the actual phone itself (holding it to my ear) or in fact through the speaker. This has made a dramatic difference, it is really very very clear, and that's a great help. The other thing I find is that, it's rather interesting, if somebody's on the line, and absolutely gabbling away to me, I press the speech "slow down" button and that really helps also!
Advice for Others Starting Their Journey to Improved Hearing
I would say that anybody who's looking for hearing aids, or some solution to help their hearing, I would certainly say try one of the Wear & Hear headsets because, first of all, there is a tremendous saving from the economical point of view but also from the actual quality of hearing.
People think you're listening to music and people don't realize you have a hearing problem.
Thoughts About Usability: Simple as A-B-C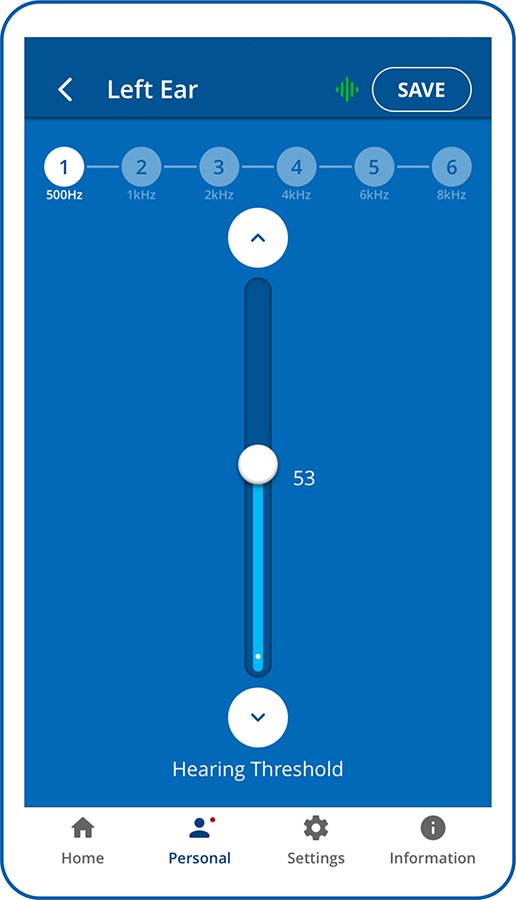 I love playing with gadgets, and this to me was a new gadget. It took me a very short time, I read the instructions. There are also very helpful videos, which I watched as well. And, to set it up and do the hearing test, really very simple, absolutely A,B,C. And got it up and running very quickly. And then after that, of course, I found out there were other little tweaks that you can do. And so, really it was not a problem at all. Anybody who isn't sort of "tech" — no problem at all.
Understanding People Wearing Masks is No Longer a Problem
One of the things I do find very useful is when I'm outside the house is when shopping, and particularly at the checkout counter, it's very helpful to hear first of all, what they're saying, and nowadays with the Perspex screen in front of the cashier and the masks on, it's very difficult sometimes to hear what people say and now I have no problem at all with that.
Spreading the Love & Well-Being
I noticed one particular person always asking me the same questions: "how easy is it to use?", "is it comfortable?" and I said, yeah, yeah, why? "Well, I actually have a little bit of trouble hearing." And to cut a long story short, they went out and bought one and are forever grateful. Every time we talk she says "oh, thank you so much, thank you so much." She says to people: "Rodney's changed my life!"
Watch Rodney's full video testimonial below: