How to Hear Better in Noisy Places
June 27, 2019
Do you sometimes have trouble following conversations in noisy places?
Does it seem that restaurants play background music louder than they used to?
Do you struggle to hear the speaker at the end of the dining or conference room table?
These situations are typically symptoms of mild-to-moderate hearing loss. While hearing aids may be the best solution for those who have a really hard time hearing in almost every situation, they may not be right for you.
Can Technology Help?
For those who have mild-to-moderate hearing loss the Wear & Hear line of personal hearing devices provide a completely personalized hearing experience. Important ambient sounds, peoples' voices, and sounds from all audio sources are amplified, enhanced and adapted to suit individual hearing preferences.
Advanced technology based on input from four separate microphones integrated into a neck loop style Bluetooth headset cancels out distracting noise while amplifying important sounds. The result: improved intelligibility of speech, even in noisy places.
Companion App Provides Additional Functionality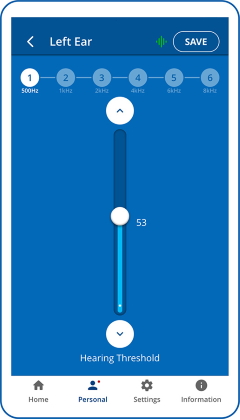 A free app, available for iPhone and Android, allows you to personalize the headset using an integrated hearing assessment. The results of the assessment are automatically applied to the headset and used as a baseline for all your hearing through the headset: live conversations, audio play (including television), mobile phone calls, and important ambient sounds like live music and sounds in nature.
In noisy settings, use the app to set the level of background noise reduction. Also, customize what you hear in real time by selecting the Best Sound Point. Simply tap on different squares in the app's grid until you achieve the best combination of frequency and amplitude for your current situation.
Need More Information?
Contact us here. If not, head over to our on-line store. Our 30-day return policy lets you purchase with confidence.