Wear & Hear Line Prepares for European Launch
February 28, 2018
Alango recruits veteran hearing technology professional to develop sales and distribution channels for its assistive hearing products in Europe
Alango, a leading supplier of voice and audio enhancement technologies for the communication and entertainment markets, has signed a representation agreement with Hans Zwart, a 30+ year veteran of the hearing health industry. According to the agreement Mr. Zwart will create sales and distribution channels on the Continent and in the United Kingdom for Alango's "Wear & Hear" hearables product line.
Veteran Hearing Professional Brings Market Knowledge and Connections
Mr. Zwart has accumulated more than 30 years' experience in the hearing health industry, for the most part on an international level. He has held such positions as Marketing & Sales Director of ExSilent BV, a company which developed innovative hearing healthcare products; Managing Director at Varibel Innovations BV, a developer of directional hearing glasses based on digital technology; and Sales Consultant at Otoharmonics LLC, a developer of custom neuroscience-based sound therapy for patients with tinnitus. Furthermore, Mr. Zwart has been trained as an acoustician.
"We are pleased to welcome Mr. Zwart to the Wear & Hear team at Alango," states Dr. Alexander Goldin, CEO and founder of Alango Technologies, Ltd. "I am confident that his deep understanding of the hearing challenges experienced by over a billion people worldwide, coupled with his connections to leading hearing product distribution channels in Europe, will serve to bring our innovative hearing enhancement solutions to those who need them most."
"I am honored and motivated to join the Wear & Hear team and share its journey to bring affordable hearing enhancement to all European countries," states Mr. Zwart. "The ability to improve people's quality of life with a ground-breaking product will be both rewarding and challenging, and I intend to recruit the most qualified partners to accomplish this task."
Hearables Line Combines Alango Sound Enhancement Technology with State-of-the-Art Consumer Electronics
The Wear & Hear line of stylish, affordable, always-on, always-connected wearable audio devices ("hearables") is designed to deliver crystal clear and pleasantly natural customized audio and voice directly to an individual's ears. The first member of the Wear & Hear product line, BeHear® NOW, is a multi-functional, high-performance, low-cost alternative to traditional hearing aids. It is a self-tunable, truly personal Bluetooth® headset featuring advanced signal processing with hearing enhancement and assistive listening capabilities.
Wear & Hear Availability
BeHear NOW is scheduled for launch in the United States in April 2018, at the American Academy of Audiology (AAA) annual conference in Nashville, Tennessee. The European launch will take place later this year.
###
BeHear is a registered trademark of Alango Technologies, Ltd. in the United States. All other trademarks are the property of their respective holders.
For More Information
Ruth Bridger
Marketing Director of Assistive Products
Alango Technologies, Ltd.
+972 4 8580743 x106
info@WearAndHear.com
www.WearAndHear.com
Calling All Early-Adopters: Back Our Campaign Now to Get an Advance BeHear NOW Unit
January 10, 2018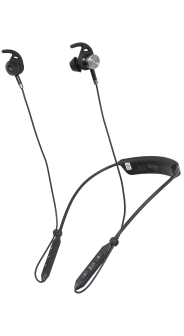 We are excited to announce the launch of an Indiegogo campaign to increase awareness and generate feedback for the first member of our "Wear & Hear" assistive products line: BeHear® NOW.
BeHear NOW is a stylish personal hearing product that looks and functions like a Bluetooth stereo headset, but includes fully customizable ambient hearing amplification. It suits people with mild to moderate hearing loss and overcomes the stigma, expense and limited functionality of a traditional hearing aid.
What makes BeHear NOW different from a hearing aid?
Scope: improves the user's overall hearing experience when conversing in person or on the phone, watching television, listening to recorded or live music, or just going about daily activities.
Customization: can be personalized by the user with a convenient, intuitive smartphone application.
Design: looks and feels like a modern Bluetooth stereo headset.
Technology: leveraging our company's 15+ years' experience developing sound enhancement technologies for consumer electronics devices.
Sound Quality: much wider frequency range than hearing aids, which are developed for speech enhancement only. Highest quality acoustic components designed for hi-fi music allow efficient reproduction and amplification of sounds from 70Hz up to 12KHz.
Why is BeHear NOW being promoted in an Indiegogo campaign?
We are already far along in the development process, having completed the design and initial production of the product. Local testing is in full swing, and now we are looking for additional feedback from users around the world before we announce general availability this spring. The Indiegogo platform gives us the opportunity to reach out to a wide range of people who can benefit from a customizable, cost-effective, feature-rich hearing enhancement product.
What is the next step?
We're live on Indiegogo right now.  The first 300 backers will receive their BeHear NOW units right after the campaign ends in February. Take a look at the project details and if you'd like to test one out for yourself, or get one for someone you know, don't wait too long!
Affirmation for Personalized Hearing Products at #AudiologyNOW17
April 13, 2017
AudiologyNOW!, held this year in Indianapolis, Indiana, is the world's largest gathering of audiologists. Alango participated in this annual meeting, which includes four days of educational sessions and an expo, by exhibiting and presenting an Industry Update. It was a great opportunity to announce our Wear & Hear line of personalized hearing products in the United States, explore the latest in hearing technology, and network with hearing professionals from around the world.
We were encouraged to hear from visitors to our booth as well as panelists in the conference that PSAPs (Personal Sound Amplification Products) and other assistive listening technologies such as ours are being welcomed by audiologists around the world. These products provide an affordable, stylish, and high performance alternative to hearing aids.
Check out these photos from the event: