From the iPhone to BeHear: Why, as an audiologist, I decided to also become an engineer
April 07, 2021
Suhail explains his journey and how BeHear hearing technology bridges the gap between audiology and smartphone technology with an app that gives the user control over their hearing.

When the first iPhone was released, back in 2007, I envisioned a revolution in my field of audiology. If it would be possible to connect between the mobile phone and hearing aids, this could create new hearing technology and empower hearing aid users in a completely new way – instead of being completely dependent on the audiologist to tune their device, users could access some of the technological features and control their own hearing definitions.
The smartphone industry began to flourish, and it was obvious to me that, as a result, hearing rehabilitation and the hearing aid industry would forever change.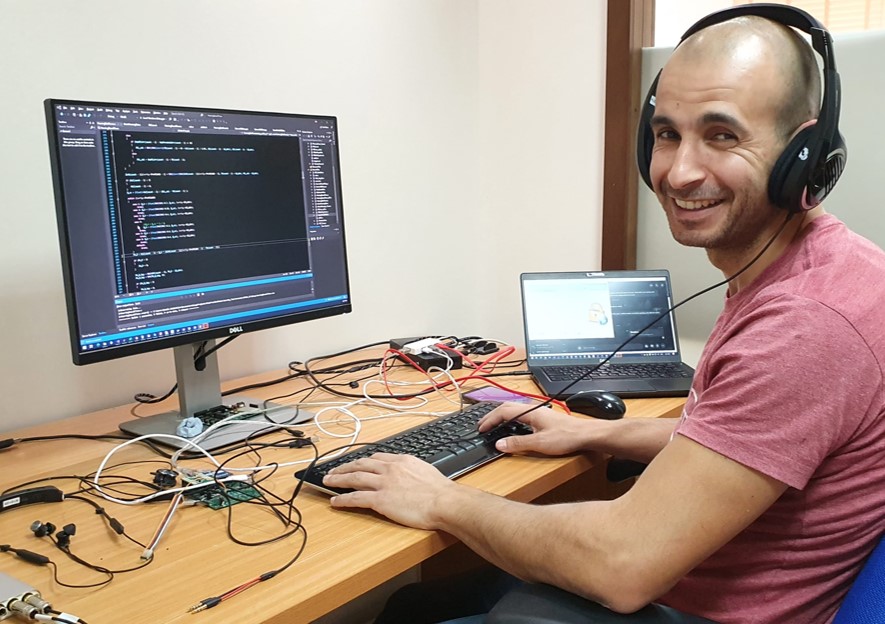 My name is Suhail Habib Allah and I am an audiologist. I am also an electrical engineer with a specialty in software programming. My dream was to bridge the gap between audiology and technology and develop a device that empowers the user with more control over their hearing while providing high-fidelity sound.
Enter, BeHear.
In 2015, I joined Alango Technologies and took a leading role in the development of the BeHear product line: hearables that provide cutting edge hearing technology at minimal effort for the user. BeHear hearing amplifiers are powerful, professional hearing enhancement solutions.
BeHear devices are a combination of a hearing amplification headset and a dedicated app that enables user control over sound definitions. The app walks the user through the set up and fine tuning of what he or she hears. Front end algorithms were incorporated to improve the SNR (Signal to Noise Ratio) in complex listening situations. Hearing mode presets were designed to help the user switch between different modes in real time.
The core of the app and the element on which the sound customization is based is our hearing test. Accurate hearing screening has always been the foundation of successful rehabilitation and device fitting, it's no different for BeHear. Our innovation is putting a professional quality screening tool in the hands of the user. We knew that the customization capabilities would differentiate our offering. That's why we invested a lot of time developing the hearing test, putting it through extensive field testing and fine tuning of capabilities before its release.
In the second stage of BeHear development, we worked on the fitting formula. Our goal was to deliver crystal clear, sharp sound, providing users a comfortable sound range, thus reducing listening strain and enabling comfortable use for extended periods of time.
We developed a fitting formula based on equalization of the of the loudness dynamic range across the frequency spectrum, giving more weight and emphasizing the high frequencies – especially in the region 2-4 KHz. This formula, combined with some of the company's proprietary technology, resulted in an industry-disruptive assistive hearing device with clear advantages:
high end sound enhancement features – the quality of a hearing aid in the form of an easy to adopt hearable;
disrupting the process of getting a hearing rehabilitation device – reducing the timeframe between when a person recognizes that he or she needs hearing help and getting a device can be significant in preventing further hearing degradation, in addition to maintaining quality of life. The old, complex and prolonged process is replaced with a new streamlined option;
gives the users more independence and control – this is important for emotional wellbeing!
affordable – cost is known to be one of the significant barriers in adopting hearing aids. BeHear makes quality hearing accessible to all.
It's been over a decade since I first began this journey. Learning to be an engineer as well as an audiologist enabled me to realize my vision of leveraging technology to create a new hearing experience. It also provided me the opportunity to play a significant role in the development of BeHear, which is making life sound better for people, worldwide.
---
Written by Suhail Habib Allah, BeHear Chief Audiologist
Let's talk on LinkedIn
Follow us on social media