Wear & Hear Products Receive Two Hearing Technology Innovator Awards
October 19, 2020
Top Honors Received by BeHear ACCESS in the Personal Listening Devices Category; Express Hearing Check Kiosk in the Equipment Category
It is this kind of exposure that will bring us closer to our goal of delivering a solution to the worldwide problem of untreated hearing loss.

Dr. Alexander Goldin, CEO and Founder of Alango Technologies
October 19, 2020 – Alango Technologies announced today that it has been awarded 1st place for both Personal Listening Device and Equipment categories in the inaugural Hearing Technology Innovator Awards™.
Through the annual awards program, Hearing Health & Technology Matters (HHTM) recognizes technological innovation and achievement in the hearing industry. This year's awards program saw dozens of innovative technologies, submitted from companies across the globe, with more than 15,000 votes cast.
Proceeds from the event helped raise over $4,000 for the Hearing Loss Association of America (HLAA).
BeHear ACCESS is a Personalizable Assistive Hearing Device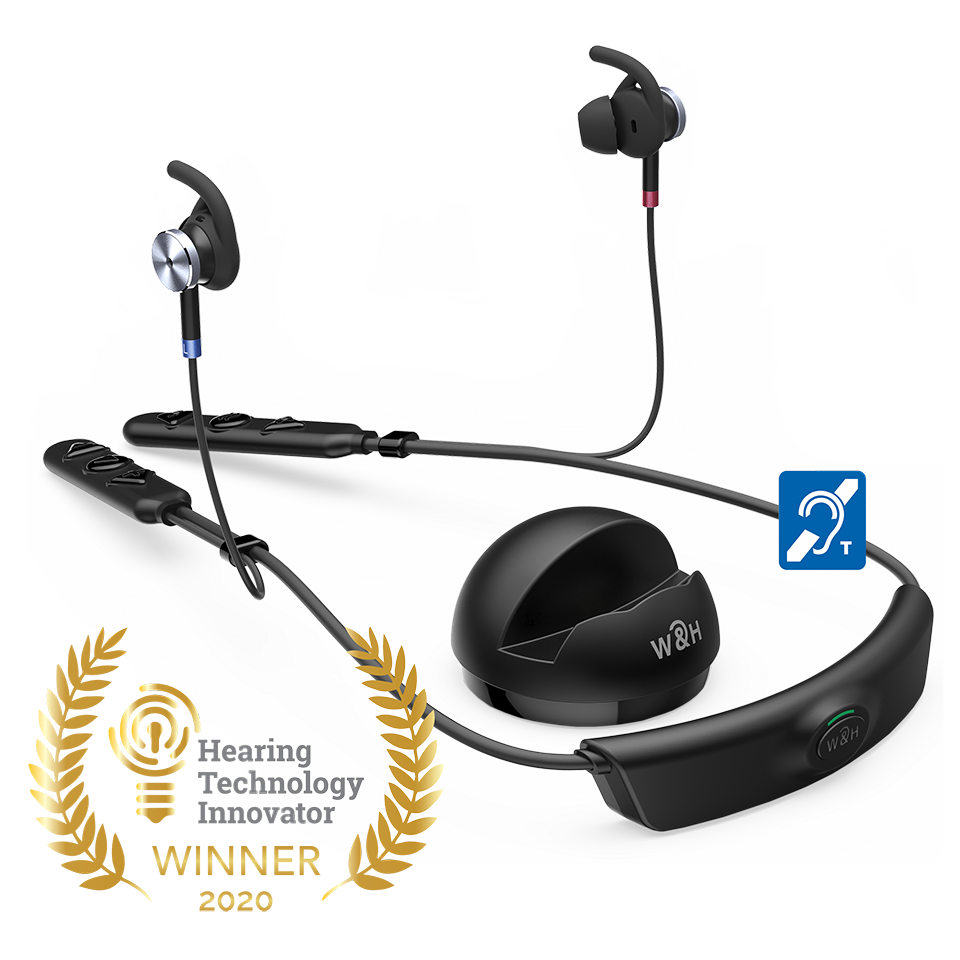 BeHear ACCESS is a stylish, affordable, multi-functional, self-managed hearing device for those with mild-to-moderately-severe hearing loss. Housed in a high-quality Bluetooth stereo headset, it features advanced technology for personalized amplification of important sounds, based on a self-administered hearing assessment. Additionally, the headset can be customized in real-time to suit all types of hearing situations: live conversations, mobile calls, music streaming, TV watching, sounds in nature, and more. Furthermore, two built-in a Telecoil receivers ensure best possible hearing in locales equipped with hearing loop technology.
What Makes BeHear ACCESS So Innovative?
By incorporating advanced sound enhancement technology into a Bluetooth stereo headset, the BeHear ACCESS from Alango – Wear & Hear provides a unique opportunity to those with hearing loss to improve their quality of life. Since 1 in 7 people worldwide have some level of hearing loss, which when left untreated can lead to poor performance at school and work, isolation, depression, cognitive decline, and even dementia, an innovative solution is critical. BeHear ACCESS eliminates the obstacles (such as high cost, stigma, unmet expectations, and reliance on others) which prevent widespread uptake of the current solutions addressing hearing loss.
Hearing Equipment Category Winner is a Hearing Self-Check Kiosk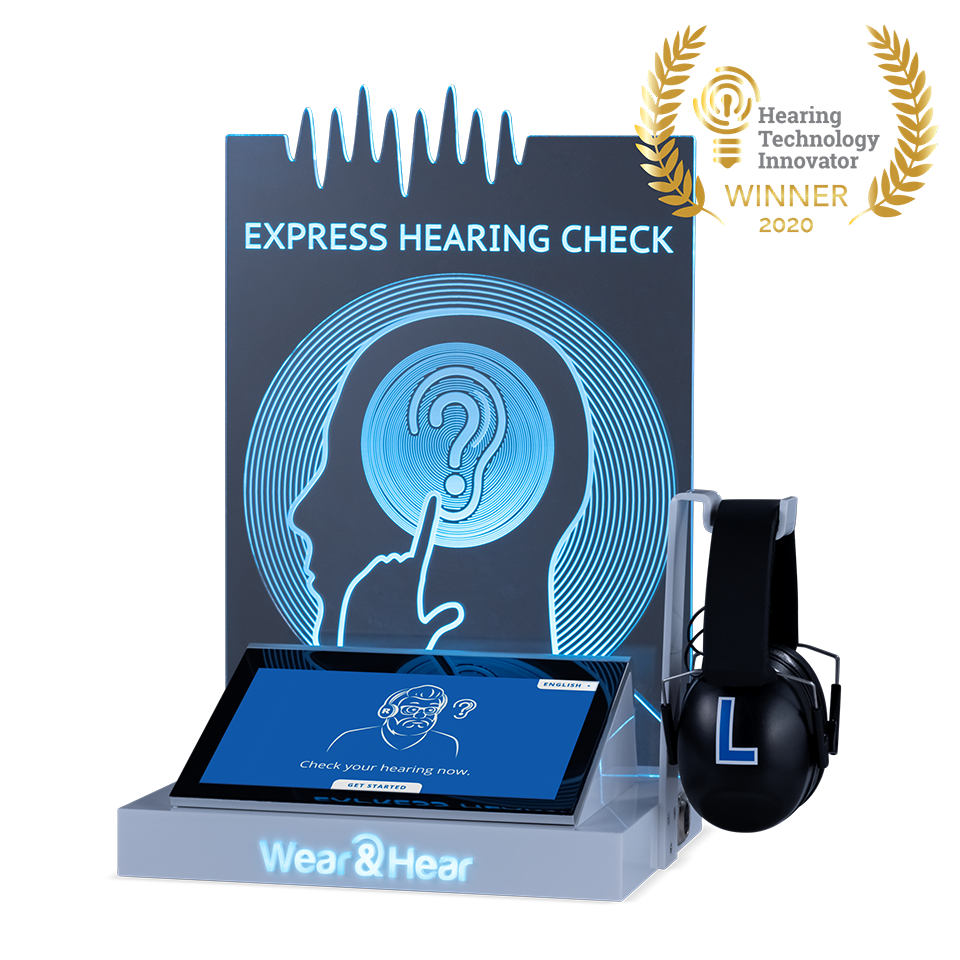 With the Wear & Hear Express Hearing Check kiosk, visitors can check their hearing in a matter of minutes, using field-proven Alango BeHear technology, and get their results on the spot. Then, they can compare what they currently hear with what they could be hearing, with personalized amplification applied.
Upon completion of the assessment, a graphic depiction of the visitor's hearing profile is displayed, with a brief explanation of the hearing abilities of each ear. Next, visitors are invited to listen to a pre-recorded audio file, choosing between two options: hearing it in its original state, or with the BeHear technology (and test results) applied to customize the sound for their hearing loss.
Currently, the kiosk is available in seven languages: English, Hebrew, Russian, Chinese (Simplified and Traditional), Arabic, and Dutch, and more will be added shortly.
What Makes the Express Hearing Check Kiosk So Innovative?
The Express Hearing Check kiosk provides immediate feedback to anyone willing to invest a few minutes to check their hearing. When used in ENT offices and hearing clinics, the kiosk can serve to relieve the bottleneck of performing hearing tests, since it requires no trained personnel for its operation.
Since hearing typically declines gradually, most people are not aware of their hearing loss, nor of what they are missing. Furthermore, hearing assessment is not typically included in standard physical check-ups. So, this quick, self-managed hearing assessment has the potential to greatly reduce the amount of time people live with untreated hearing loss (and its side effects: isolation, depression, cognitive decline, and even dementia).
The Express Hearing Check kiosk can be installed in public places, pharmacies, optical shops, ENT doctors' waiting rooms, and elsewhere. Depending on the location, visitors can get a referral for an appointment, view information about assistive hearing products, or simply request to have their results sent to them via e-mail.
Setting the Standard for Innovation in the Hearing Industry
"Technologies being developed by companies like Alango – Wear & Hear are helping set the standard for innovation in the hearing industry," said HHTM President and CEO, Kevin Liebe.
"We are pleased that our efforts to develop high-quality, affordable, multi-functional, self-fit assistive hearing solutions worldwide have been recognized by HHTM and their followers," stated Dr. Alexander Goldin, CEO and Founder of Alango Technologies. "It is this kind of exposure that will bring us closer to our goal of delivering a solution to the worldwide problem of untreated hearing loss."
About Alango Technologies
Alango Technologies, Ltd. (www.alango.com) has been developing sound enhancement technologies since 2002, selling over 50 million software licenses that improve the audio experience in automotive, entertainment, and smart home applications around the world. Realizing the importance and opportunity of combining the sound enhancement technology found in hearing aids with the advances and costs in the consumer electronics world, the Company is now using its field-proven expertise in sound technology to create products for personal hearing enhancement: the "Wear & Hear" product line (www.WearAndHear.com).
About the Hearing Technology Innovator Awards
The Hearing Technology Innovator Awards™ is an international awards program designed to recognize and celebrate innovation within the hearing industry. Learn more at https://hearinghealthmatters.org/hearing-technology-innovator-awards/
Assistive Technology Podcast Showcases Wear & Hear
August 07, 2020
We recently had the privilege of participating in a podcast organized by Josh Anderson of Easterseals Crossroads. That organization has been providing assistive technology solutions in Indiana since 1979.  In 2007 Easter Seals Crossroads partnered with the State of Indiana Bureau of Rehabilitative Services to establish the Indiana Assistive Technology Act (INDATA) Project.  The INDATA Project is one of 56 similar, federally-funded projects designed to increase awareness of and access to assistive technology. For more information, visit the INDATA Web site.
I love that you're putting that technology in consumer devices so like you said, individuals can walk around in and use them and no one even knows.

Josh Anderson, Assistive Technology Update
When we mentioned that one of our most important goals now is to inform those who could benefit from our products of their existence, Josh agreed that we need more exposure. He notes: "That's always the biggest challenge it seems like in any kind of assistive technology is just finding out what there is out there for folks who have barriers and just don't realize that there's so many things out there to help them, so thank you for coming on the show and letting them know that your products are out there and available to help them with their needs."
We're grateful to Easterseals Crossroads and INDATA for the opportunity to share our assistive technology hearing products with their community in this podcast. We really appreciate their support in our mission to make the world sound better to everyone.
Listen to the podcast using this link, or read the transcript on this Web page.