Alango BeHear NOW and Bose Hearphones Features Compared
March 19, 2019
Hearables Comparison Published on Hearing Tracker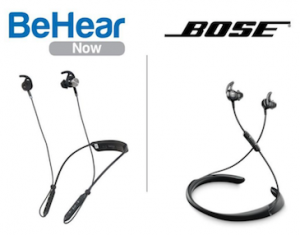 ♦ Bose Hearphones were introduced in 2016. They feature active noise reduction, directional microphones, Bluetooth audio and call streaming, smartphone app control, and more. But with the hearables market heating up, there are now multiple alternatives to consider, some of which offer similar technology at a lower price point.
Alango's BeHear NOW headset, launched in 2018 by Alango's Wear & Hear (W&H) assistive products line, is the most noteworthy Bose Hearphones alternative. Both the Alango and Bose headsets aim to enhance hearing, and both support Class II Bluetooth connectivity. And because both use an in-ear neckband form factor, they are strikingly similar in appearance.
"But with BeHear NOW coming in at just $249 (versus $499 for the Bose), price is a major differentiator between the two."
And aside from price, there are a number of key differences to consider when comparing the Bose Hearphones with Alango's BeHear NOW. To read the entire comparative article, click here.
Back to Blog

Share this: