September 2022 Newsletter
September 28, 2022
"This is like a Pocketalker on steroids!"
Alexander Goldin, CEO of Alango-BeHear, was recently interviewed by audiologist, author, and hearing health visionary Brian Taylor for "This Week in Hearing," a podcast sponsored by Hearing Health Matters. The topic of the interview was "Disruptive OTC Amplification Technology." During the interview, after he introduced himself with a dog anecdote, Dr. Goldin listed the benefits of BeHear SMARTO. Dr. Taylor could be heard exclaiming, "This completely blows any kind of Pocketalker out of the water!"
Watch the video recording and/or read the full interview transcript on this page.
ALSO IN THIS NEWSLETTER:
Support for single-sided deafness (SSD) in BeHear ACCESS
Customer pleased with hearing autonomy afforded by BeHear
Alango-BeHear supports HLAA programs
One last thing before you dive into this newsletter. If you, or someone you know, is putting off getting hearing help because of stigma, think about this insight:
"I always say that hearing loss is so much more obvious than hearing aids."

Rhee Rosenman-Nesson, Au.D., a doctor of audiology and founder of Hearing Doctors of New Jersey
Do you have something you'd like to share with us? We'd love to hear it.
The BeHear Team at Alango Technologies
---
 Got Unilateral Hearing? Don't Despair…
 People with single-sided deafness (SSD) live in two worlds: the world of normal hearing, when sounds come from the healthy side, and the world of near-deafness, when sounds come from the impaired side.
Although people with SSD often do quite well without assistance in most quiet indoor situations, they may have difficulty when the sound of interest comes from the deaf side, especially in noisy circumstances. Our BeHear ACCESS can help. Click here to learn how.
---
 A loyal customer weighs in on BeHear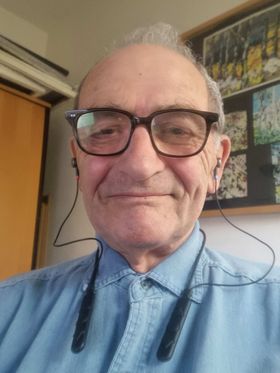 Michel models his BeHear ACCESS, which he appreciates for its built-in telecoil receivers, for use in looped venues.
Michel sports his band new BeHear SMARTO, which provides even more amplification than the BeHear ACCESS.
Just last week we were lucky enough to meet one of our most veteran customers face-to-face. Michel Baudry was "in the neighborhood" so we invited him in for a chat. He agreed to take a few selfies and let us publish his comments. Michel was already using a BeHear ACCESS but decided he would like to have the new BeHear SMARTO as well. About the latter he said "I think everybody should have one…as a separate tool that can save your life if needed…it's very flexible!"
---
 Hearing Loss Association of America Events
We are always pleased when approached by the Hearing Loss Association of America (HLAA) to support their efforts to educate communities about treatment of hearing loss.
FOR EXAMPLE:
September 16-18: BeHear contributed a SMARTO hearing amplifier to the silent auction held at the HLAA NYSA State Conference in Glen Falls.
HLAA of North Bay California is sponsoring two outreach events in October:
October 3: Spring Lake Village senior community in Santa Rosa. Communication tips and product demonstrations will be provided for the ~200 employees and residents.
October 23: Rotary International Polio Symposium. The event will include interactive experiences to empower attendees to serve as accessibility advocates for those challenged by Polio and other disabilities.
If you are active in HLAA and would like BeHear samples for your community, please contact us!
Back to Blog

Share this: