May 31, 2021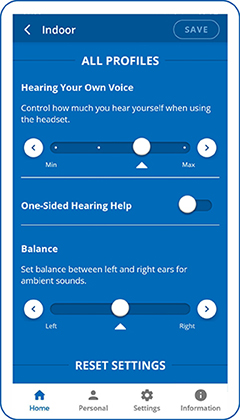 A typical downside of wearing a pair of earbuds is the "occlusion effect"; a perceived echo of your own voice when air flow to your ear canal is restricted. This phenomenon has been addressed in the BeHear ACCESS headsets.
The degree to which you hear your own voice can be adjusted using the W&H BeHear app, as follows:
When in Personal Hearing mode (i.e., no audio is streaming and there is no active phone call), from the Home menu tap the "equalizer" button at the bottom of the screen.
Scroll down to the "ALL PROFILES" section.
The four-step slider in the "Hearing Your Own Voice" section allows you to control how much you hear yourself when wearing the BeHear ACCESS headset.