Spare Silicone Ear Tips
Additional set of silicone ear buds & hooks in all sizes and shapes
(photo is for reference only, headset not included).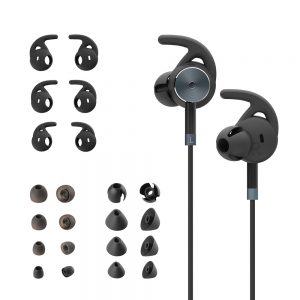 The BeHear NOW and BeHear ACCESS headsets come with all these types and sizes of ear buds and ear hooks. If you need to replace lost pieces, or just want to have a spare set on hand, you can purchase them as "spare parts".
For instructions on replacing the ear buds and hooks on your BeHear  headset,
watch this video
.
Read What Our Customers Have to Say
Kindle Customer
June 4, 2021.
Equipment is fantastic, but cable cords tend to deteriorate fast won't increase cost significantly a batter gauge and more resistent cables to wear and tear
Ron Nowaczyk
May 2, 2021.
Need to take the time to set it up properly. Set up is easy but requires fine tuning to get the best results. Perfect for someone that likes full control of all settings without having to go to an audiologists.
Albert moots
April 24, 2021.
learning all about this product and multiple product videos has shown me how the features work. They are excellent quality . My charge over night lasts all day which for this old man is 12 hours. Thank you
Nourah Mumeen
March 10, 2021.
Order arrived quickly and Product is awesome.
Amazon Customer
February 2, 2021.
Great product! I loved it at CES last year and just had to have it.
Kindle Customer
January 31, 2021.
Since it was easy to lose other types, this one is hard to misplace and works well and can be programmed by the user with mild to moderate hearing loss.
Excellent service Received in perfect condition and earlier than perdicted.
Quite pleased with this seller. Product arrived in time for Christmas.
Ines Monguio
January 3, 2021.
arrived promptly. Instructions detailed and accurate. Easy to use.