BeHear LINK (HearLink PLUS)
Long range, low latency, optical and analog wireless TV audio and music transmitter.
Low latency audio streaming for optimal lip sync
Long range connectivity of up to ~200 feet (~60 meters)
Seamless operation with BeHear headsets with remote play/pause control
AutoON (automatic 'power on' if charged from the television set USB port)
Bypass mode enables single cable connection to additional auxiliary speaker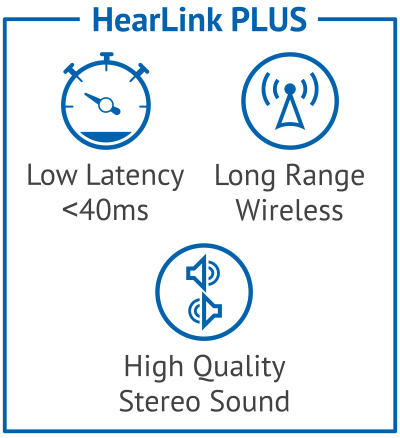 Restore Pleasure to the TV Watching Experience
BeHear LINK (formerly HearLink PLUS) low latency long-range Bluetooth audio transmitter connects to the digital optical interface or analog sound output on any standard television or other audio device and transmits the sound directly to your BeHear headset. Alango Technologies' sound enhancement technology clarifies speech and the Bluetooth connection eliminates ambient sound interference to provide you with the optimum listening experience.
---

Comfortable and Enjoyable Listening
The BeHear PLUS audio transmitter is designed to help viewers comprehend television dialogue and enjoy programs without increasing the volume beyond levels comfortable to other viewers. It also enhances the listening experience for other audio sources.
---
Dual Mode Keeps You Connected to Your Phone
The BeHear headset can be connected to the BeHear LINK TV transmitter and to a smartphone at the same time. This allows you to watch TV with the ListenThrough technology activated (passing through important ambient sounds via the headset), while also allowing you to make/receive phone calls.
Product Specifications
Model No.: BT5805A
Bluetooth version: V5.0, Class I
Operating range: Tx mode: up to ~200 feet (~60 meters)
Supported profiles: A2DP, AVRCP
Supported audio codecs: aptX™ Low Latency, aptX™, SBC
Input/output audio: Stereo analog audio, optical fiber digital audio
Power supply: 5VDC, micro-USB
Current consumption: Up to 220mA
Operating temperature: 14 – 131°F (-10 – 55°C)
Net weight: 3.5 oz. (99 grams)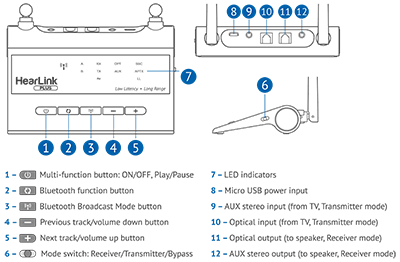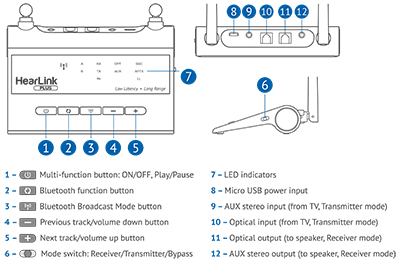 Read What Our Customers Have to Say
Kindle Customer
June 4, 2021.
Equipment is fantastic, but cable cords tend to deteriorate fast won't increase cost significantly a batter gauge and more resistent cables to wear and tear
Ron Nowaczyk
May 2, 2021.
Need to take the time to set it up properly. Set up is easy but requires fine tuning to get the best results. Perfect for someone that likes full control of all settings without having to go to an audiologists.
Albert moots
April 24, 2021.
learning all about this product and multiple product videos has shown me how the features work. They are excellent quality . My charge over night lasts all day which for this old man is 12 hours. Thank you
Nourah Mumeen
March 10, 2021.
Order arrived quickly and Product is awesome.
Amazon Customer
February 2, 2021.
Great product! I loved it at CES last year and just had to have it.
Kindle Customer
January 31, 2021.
Since it was easy to lose other types, this one is hard to misplace and works well and can be programmed by the user with mild to moderate hearing loss.
Excellent service Received in perfect condition and earlier than perdicted.
Quite pleased with this seller. Product arrived in time for Christmas.
Ines Monguio
January 3, 2021.
arrived promptly. Instructions detailed and accurate. Easy to use.