BeHear NOW (refurbished)
Hearing amplifier for live conversations, mobile calls, and streamed audio
Designed for people with mild-to-moderate hearing loss
Amplifies only the frequencies where you need a boost
4 different preset hearing modes and dedicated app
Rechargeable for up to 12 hours of use
Developed by experienced sound engineers and certified audiologist

This refurbished unit is available only in the U.S. (used but cleaned, tested, and fully updated)
Note: BeHear NOW headsets are not hearing aids and are not designed to restore hearing.
BeHear NOW utilizes voice processing technologies developed by Alango Technologies, Ltd. over the past two decades, such as:
ListenThrough™ – Passing through important ambient sounds during music playback
EasyListen™ – slowing down speech dynamically during phone conversations
Personal Sound Amplifier – providing dynamic, compressed amplification of ambient sounds
Hearing enhancement functions – including noise reduction, echo cancellation, and more
---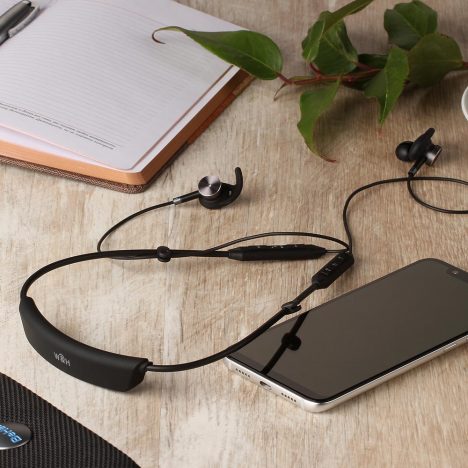 The BeHear NOW assistive hearing headset belongs to a new category of sound enhancement products. It combines the functionality of three existing devices into one:
Bluetooth stereo headset for wireless mobile phone calls and media playback
Assistive hearing device for enhanced intelligibility of speech and other important sounds
Digital hearing aid for personalized sound amplification across a wide sound spectrum
---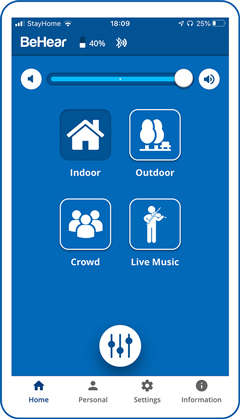 Customizable for Your Hearing Capabilities and Preferences
The headset itself includes a variety of controls to manage its hearing functions, which work "out of the box" for four different hearing profiles:
Indoor
Outdoor
Crowd
Live Music
---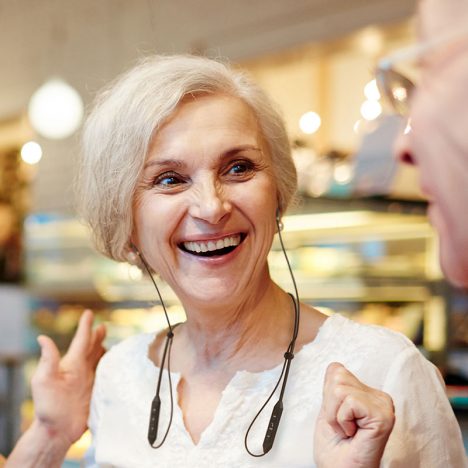 Situational Hearing Enhancement:
When You Need It
In-person conversations
Mobile phone conversations
Music/audio streaming
Television viewing
Movies, theater and concert performances
Outdoors, in nature
---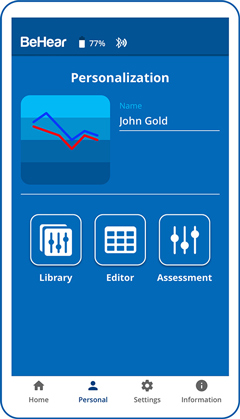 These profiles can be modified in real-time, based on the current sound environment and the wearer's preferences, using the W&H BeHear mobile application. The application also includes:
A self-administered personal hearing assessment for automatic adjustment of the sound in each of the operational modes (ambient hearing, phone calls, and audio play)
Direct access to the video tutorials library
An option to set the balance between left and right ears
Assistive listening functions for phone calls and media playback
Various device settings, including default mode behavior, vibration alerts, and more
The W&H BeHear application can be downloaded for free from the Google Play Store or Apple Store.
Product Specifications
Electrical Specifications
Bluetooth
Version 4.2, Class II
HFP 1.6, HSP 1.2, A2DP
Supported audio CODECs: SBC, aptX, aptX-LL
Range: 10m
Acoustic Performance
Maximal Sound Pressure Level (OSPL90), HFA: 116 dB SPL
Full-on Gain, HFA: 42 dB
Total Harmonic Distortion (THD): < 0.7%
Receiver Specifications

Speaker: 13.6 mm receivers
Frequency Response: 20 Hz to 20 kHz

Microphone Specifications

Microphones (four in total):

Ultra low-noise 74 dB SNR ECM (Electret Condenser Microphone) in each earpiece
Low-noise digital 64 dB SNR MEMS in each control box

Frequency Response: 100 Hz to 15 kHz
Battery
Rechargeable single cell Lithium Ion
Charging interface: Micro-USB
Capacity: 250mAh
Software Versions Supported by W&H BeHear App
Android: Version 4.4 and up
iOS: Version 9 and up
Operation Time
Hearing mode: 12+ hours
Talk: 10+ hours
Play: 8+ hours
Standby: 400 hours
Mechanical Specifications
Headset Weight: 29 g (1.0 oz.)
Wearing Style: Neck loop (behind the neck)
Vibration Alerts
(enabled/disabled using the BeHear NOW smartphone application, Settings menu):
Power On/Off
Bluetooth Pairing
Bluetooth Connection/Disconnection
Connecting to Charger
Incoming Call (synchronized with call tone)
Agency Approvals
CE RED
FCC
TELEC
SRRC
NCC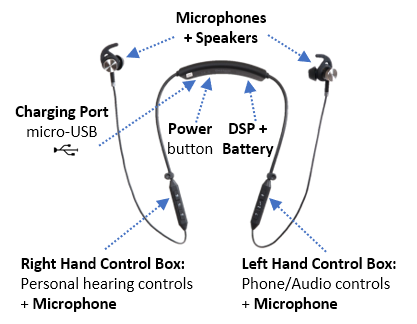 Read What Our Customers Have to Say
Kindle Customer
June 4, 2021.
Equipment is fantastic, but cable cords tend to deteriorate fast won't increase cost significantly a batter gauge and more resistent cables to wear and tear
Ron Nowaczyk
May 2, 2021.
Need to take the time to set it up properly. Set up is easy but requires fine tuning to get the best results. Perfect for someone that likes full control of all settings without having to go to an audiologists.
Albert moots
April 24, 2021.
learning all about this product and multiple product videos has shown me how the features work. They are excellent quality . My charge over night lasts all day which for this old man is 12 hours. Thank you
Nourah Mumeen
March 10, 2021.
Order arrived quickly and Product is awesome.
Amazon Customer
February 2, 2021.
Great product! I loved it at CES last year and just had to have it.
Kindle Customer
January 31, 2021.
Since it was easy to lose other types, this one is hard to misplace and works well and can be programmed by the user with mild to moderate hearing loss.
Excellent service Received in perfect condition and earlier than perdicted.
Quite pleased with this seller. Product arrived in time for Christmas.
Ines Monguio
January 3, 2021.
arrived promptly. Instructions detailed and accurate. Easy to use.