SALT Personal Sound Amplifier
SALT TM (Smart Assistive Listening Transceiver) is a revolutionary, truly Personal Sound Amplifier that also works as an advanced Bluetooth® stereo headset and Assistive Listening Device.
SALT uses a powerful Digital Signal Processor to apply Alango Technologies' proprietary voice and audio enhancement technologies, such as ListenThrough TM sound enhancement and EasyListen TM slow down speech, which are customizable for specific hearing loss or user preferences.
SALT can be personalized intuitively by a user via a smartphone application. Cleaned, amplified and personally-tuned sound is delivered directly to the user's ears via headphones, or to the user's hearing aid via induction neck loop.
SALT can work additionally as a speakerphone, wireless intercom, vibration alert, smart fall detector, emergency call device, and much more. All features are customizable.
SALT is a personal sound amplifier that works as a Bluetooth stereo headset, providing a wide range of assistive listening functionality.
Personal Sound Amplifier With Extended Connectivity
Personal Sound Amplifier Multi-channel sound amplification with advanced beamforming, noise and feedback cancellation
T-Coil Receiver Directly receives sound of interest in places fitted with induction loop
Bluetooth Headset Enables voice communication and music listening with personalized sound
Safety and Healthcare

Emergency call button
Intelligent fall detector
Vibration and sound alerts

Remote Microphone Virtually decreases the distance between the user and other people
Bluetooth Intercom Communicates with another SALT user directly
TV Listening System Directly transmits TV sound to user's SALT device
Share this:
Want More Information?
Join our mailing list to get updates about BeHear pricing and availability.
Where to Buy BeHear®
The BeHear headphones are currently undergoing beta testing and are scheduled for release shortly. To pre-order this product, join our mailing list and we will send you updates regarding the product availability.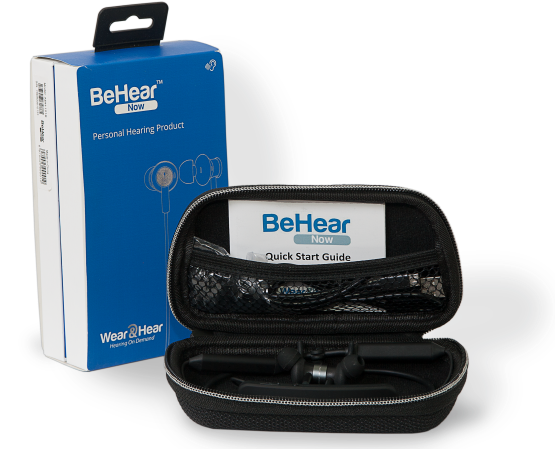 Sign Up Now

Follow Us on Twitter
Upcoming Events
Read More